What on Earth are all these new things!
If accepted predictions are correct, 2016 is ear-marked to herald a new eara in computing which some predict will hark humanity's entrance into the 4th stage of Industrial Revolution. However for some, the question still remains as to what the rather fuzzy term "Internet of Things" truely means.
Wikipedia perhaps most correctly describes the IoT in the following way:
The Internet of Things (IoT) is the network of physical objects—devices, vehicles, buildings and other items which are embedded with electronics, software, sensors, and network connectivity, which enables these objects to collect and exchange data. The Internet of Things allows objects to be sensed and controlled remotely across existing network infrastructure,creating opportunities for more direct integration of the physical world into computer-based systems, and resulting in improved efficiency, accuracy and economic benefit; when IoT is augmented with sensors and actuators, the technology becomes an instance of the more general class of cyber-physical systems, which also encompasses technologies such as smart grids, smart homes, intelligent transportation and smart cities. Each thing is uniquely identifiable through its embedded computing system but is able to interoperate within the existing Internet infrastructure.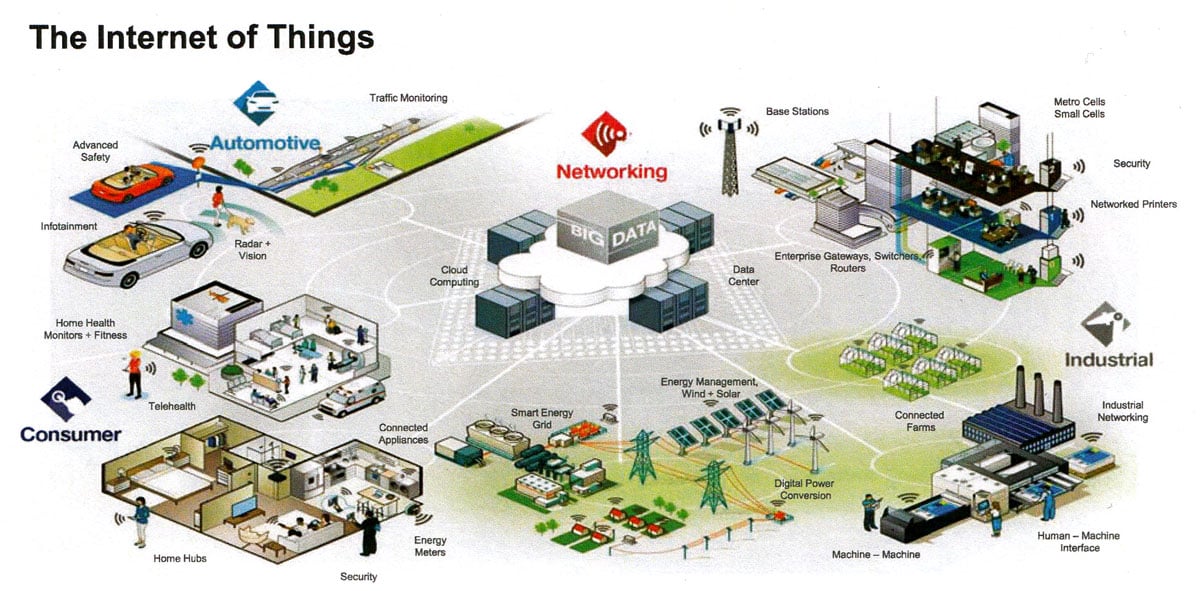 Oh! I see; It is an Internet … Of Things!
"Things," in the IoT sense, can refer to a wide variety of devices such as heart monitoring implants, biochip transponders on farm animals, electric clams in coastal waters, automobiles with built-in sensors, DNA analysis devices for environmental/food/pathogen monitoring or field operation devices that assist firefighters in search and rescue operations. These devices collect useful data with the help of various existing technologies and then autonomously flow the data between other devices. Current market examples include smart thermostat systems and washer/dryers that use Wi-Fi for remote monitoring.
Besides the plethora of new application areas for Internet connected automation to expand into, IoT is also expected to generate large amounts of data from diverse locations that is aggregated very quickly, thereby increasing the need to better index, store and process such data. IoT is one of the platforms of today's Smart City and Smart Energy Management Systems.
At its' core, the IoT is a general description of the vastly connected array of devices which litter our modern life. From SmartPhones to home automation devices, "InternetFridges", Driverless vehicles, Pacemakers, FitBit's and tinkerings with Raspberry Pi, the Internet Of Things describes the network of such devices talking to each other and traditional servers whilst diligently serving their masters as they are consumed by "MeatBags" using the common Internet.
And, by all accounts, there will be a Lot of these things (20-50 Billion by 2020!!) and they will be Everywhere:
.
DISCLAIMER I am currently employed as a Senior Professional Services Consultant at Esri Australia Pty. Ltd. The views expressed in this article are purely my own and do not represent the views of my employer. The recommendations and outcomes of this treatise are in no way affiliated nor endorsed by Esri Australia